Quick Summary
You are interested in archery. But also you want to start with the safest way. Or – most commonly – you're looking for a present for your child. You're in the right place. Because Dude Perfect Signature Nerf Bow will definitely give you all you're looking for. It's a very LARGE and multi-branded product.
It's a great way to spend hours with your child. Essentially, Dude Perfect + Nerf Bow = What else do you need?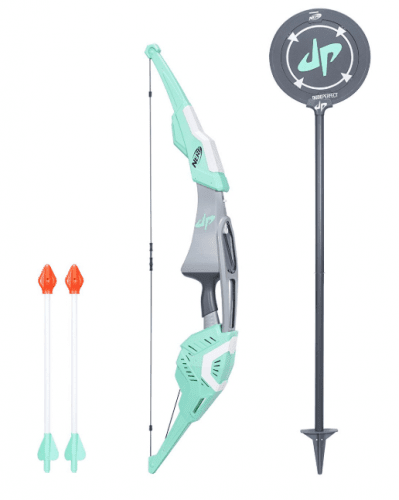 Warning! It's hard to find a quality review for this product. There are only some poor videos and lots of customer comments. So, I spent several hours reviewing this scattered information and compiling it with an objective view before presenting it to you.
In-depth: Dude Perfect Nerf Bow
This is a wicked BIG bow that shoots big arrows. The bow has a really cool sci-fi feel to it. Overall product quality is higher than the average toy bows on the market. That's why it won't break easily. It's plausible to say that this bow is more sturdy than a toy.
Especially as an excellent present for your child even if it's a HUGE adult sized bow. There are also LOTS of adult people who love this bow. So, don't consider it's 'just a toy.' This bow is a great choice to grow your passion for archery. It'll be a great learning tool.
I'm sure that you have heard of Dude Perfect and these five crazy guys. This bow carries their brand name. You can watch and learn more about them from their Dude Perfect YouTube channel.
Buying Nerf Toys Online? I've been buying different kinds of Nerf guns and so many other accessories online for years and never had any problems. However, before you buy it, just don't forget to check the seller's return policy. You'll have a right to return within a certain timeframe. If you don't think this is a good choice for you, you can always return!
Design
Dude Perfect Nerf Bow works perfectly with its minimal design. But, it does not work like traditional bows. It doesn't bend like the recurve bow when you pull the string. The riser (bow arms) are made from plastic and don't flex at all. But you can feel the reel turning inside the bow which gives power to the mechanism like a compound bow.
The string of the bow is tensioned by a spring apparatus housed inside the bottom arm of the bow. Besides, the reel mechanism provides you a relatively low tension.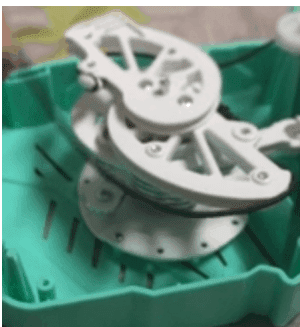 Perfect feature! Once you pull back the string, you'll understand the benefit of that reel. Because it's really light in the rear position compared to a real recurve bow.
Dimensions
Dude Perfect Nerf Bow is the biggest nerf bow that has been ever made. It's like an English longbow's toy version with its 43.5 inches long. Also, it has 8 pounds of weight.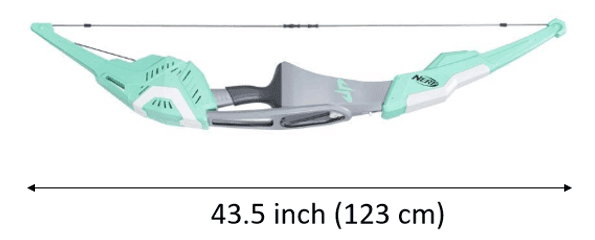 Warning! I don't recommend this one for small people because of its large dimensions. It might be overwhelming to use. I recommend for people over 4 ft tall.
The scale of the bow is an absolute monster. Assembled product box dimensions are 4 x 36 x 16 Inches.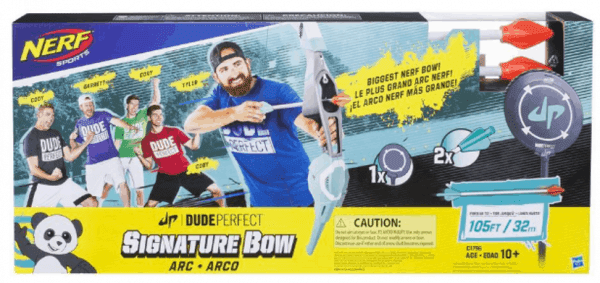 But the bow itself has a pretty simple design. Also doing its job perfectly.
Range
It's not bad. But it's not that great either. Even though they claim the max range is around 100 feet; the real range is not more than 80 ft. But clearly, it can increase or decrease with the wind. Also, note that after 30-40 feet, your accuracy will be somewhat diminished.
String
Unlike lots of other nerfs bows, the string is not elastic. It does not have a lot of tension on the line. You will get your draw power with the reel mechanism inside of the bow.
Warning! The string tension (also called draw weight in Archery) is actually quite substantial. So it might be hard for little kids. On the other hand, the string is mostly supported by the mechanism inside the bow. Thus, that feature provides ease of drawing the string.
Grip
The grip is very comfortable for an adult hand. It seems from the size that it has been designed for adult use, but the actual area of the grip is too small compared with the size of the bow.
Arrow
The arrows themselves are super light. They have a super compressible tip. But with the hole on the tip, it will whistle when fired which I found pretty cool.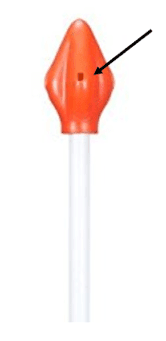 The arrow shaft is relatively short which I don't like it. That will kill your draw power.
Sight
It has an adjustable sight on it so you can adjust it according to the range; if you know how many clicks it needs. When using it for short range, I suggest you use in the lower position.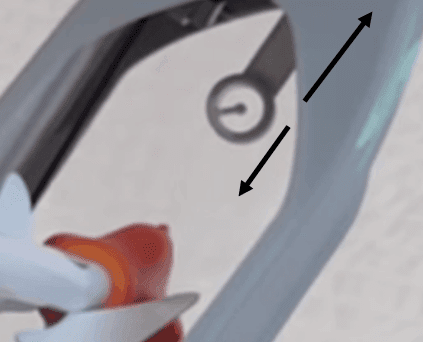 Arrow Rest
Unlike real bows, Dude Perfect Nerf Bow has a hole type arrow rest. So, what you have to do is slide your arrow through the hole. After that, you need to nock the arrow in the small nocking area on the string.
After the arrow is nocked, you just pull the string back. When you do that, small white arrow support in the center will load up. That supports the arrow so it can fly through without the fins smacking into the arrow rest and spoiling your accuracy.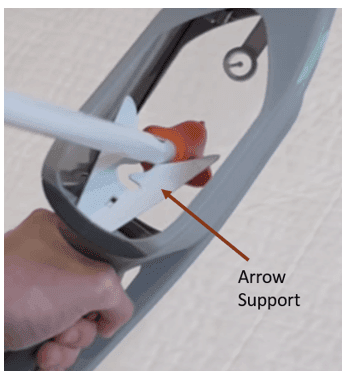 Important! The feathers can easily withstand against wrapping with the perfect arrow support design and floating system. For the other toys, you might have to change your arrows after around 100 shots.
Nocking Area
The nocking area consists of two parts. The first one is the nocking point which is obviously where the arrow goes. But, other parts also exist to make sure your arrow stays still.
By the way, that feature is great for a toy because it also provides consistency of your shot when you release at different points on the string that will change your arrow trajectory.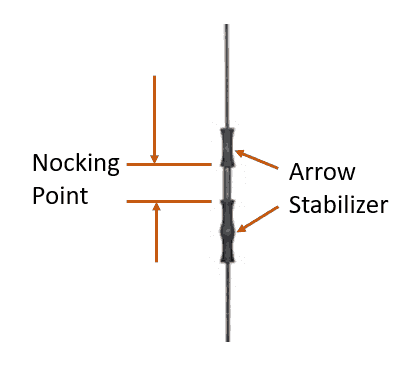 Even though it's just a toy, the arrows are heavier than expected. They fly very fast compared to most toy bow and arrows. Thus, they carry a lot of energy. It would be best not to take a body shot from one of these arrows. I wanted to warn you; you may not want to get shot with one of these arrows especially in short range.
Note that, Dude Perfect Nerf Bow reloading is not a short process. Sometimes it might be frustrating spending so much time on the reload.
◊ I also find the black holders (arrow stabilizers) that attach the string might come loose so you should be careful while nocking the arrow.
Accuracy
Even if you have a little experience with real bows, you'll find it pretty simple. You can shoot accurately with the Dude Perfect Nerf Bow.
Target
The target has a coupling system. At the bottom, it has a stake which can be shoved into the grass to stabilize it.
Warning! This bow clearly is not designed for indoor activity. You may even break the windows.
The target has a cool design. But it's a reactive target which means you cannot repeatedly shoot at it. When you hit the target, it'll fall.
You can use your regular nerf blasters with this target. However, they might not give you a viable output reading if you don't shoot in short range. The target might not unlatch.
Warning! Shots might hurt you if you're accidentally hit by one. So, make sure there is no one (including your pets) around you while playing.
What's include in the package?
Reactive Target ( Has some sub-pieces that can easily be assembled ) – The target has a foot pedal so you can stick it into the earth – It has a Dude Perfect logo on it. (If you're not a fan, it's okay, because eventually, you will shoot through their logo.)
Dude Perfect Nerf Bow ( Unassembled – But not the end of the World ) Just kind of crackdown on the bow until you hear the click sound. Then you will see a screw on it. You should tighten this safety screw to prevent the collapse of the bow.
Two arrows with rubber heads.
More Arrows?
It comes with two 24'' arrows. But you may want to expand the number of arrows in your quiver. In my opinion, the two arrows that you will get with the pack of Dude Perfect Nerf Bow are not enough. After that, you will be glad that you bought extra arrows. Eventually, you might leave one of your arrow on neighbor's roof.
What If You're Left Handed?
Even if you're left-handed, you won't be facing any problems for aiming and firing.
Can I disassemble the Dude Perfect Nerf Bow?
Unfortunately no. Once you click the bow into place, it'll be pretty hard to breakdown. I suggest you slide it under your bed or hang it on the wall.
Expand your hobby
You may want to expand your target quantity and buy extra targets. It could be perfect if you scatter them around your backyard.
Pros and Cons
Pros
Super-easy to use
Sci-fi feel
Adjustable sight
Great accuracy and consistency for a toy
Cons
Pop-up rest
Short arrow shaft
Comes with only two (2) arrows
Is not a great toy for an indoor activity
Re-load time is long
It's too big to store
Conclusion
Dude Perfect Nerf Bow is pretty cool. It doesn't make you feel like you're playing with just a toy. It's more than that.
References
LordDraconical / Honest Review: The Dude Perfect Nerf Bow + Target (Youtube)
Coop772 / [REVIEW] Nerf Dude Perfect Signature Bow Unboxing, Review, & Firing Demo (Youtube)
Walcom S7 / NERF DUDE PERFECT BOW REVIEW || Bigger is better? Riiiiiight. | Walcom S7 (Youtube)
https://www.walmart.com/ip/Nerf-Sports-Dude-Perfect-Signature-Bow/55589167
https://nerf.fandom.com/wiki/Dude_Perfect_Signature_Bow
Reddit – Nerf / Cheaper and better than the nerf dude perfect bow